The tournament opener will see the host team, Pakistan Veterans, facing off against the veterans from the US.
The grand unveiling of the tournament's trophy was held at a local hotel in Karachi, accompanied by a press conference led by Fawad Ijaz, the Chairman of the Pakistan Veterans Cricket Association (PVCA).
Fawad Ijaz highlighted the historical significance of hosting a major veterans' cricket tournament in Pakistan. He reassured that stringent security measures are in place to ensure the safety of all international teams.
When questioned about the tournament's name, he explained that it was initially named the "World Cup." However, due to objections raised by the International Cricket Council (ICC), the name was altered to the "Global Cup." This adjustment ensured ICC's sanctioning of the event.
Fawad Ijaz also addressed the absence of the Indian team from the tournament, citing difficulties in obtaining visas for Indian players.
The Over 40s Cricket Global Cup will feature teams from Australia, the West Indies, Canada, Hong Kong, the USA, and the UAE. A total of 36 matches are scheduled to be played across five different grounds in Karachi, with the Pakistan team competing at the National Bank Stadium.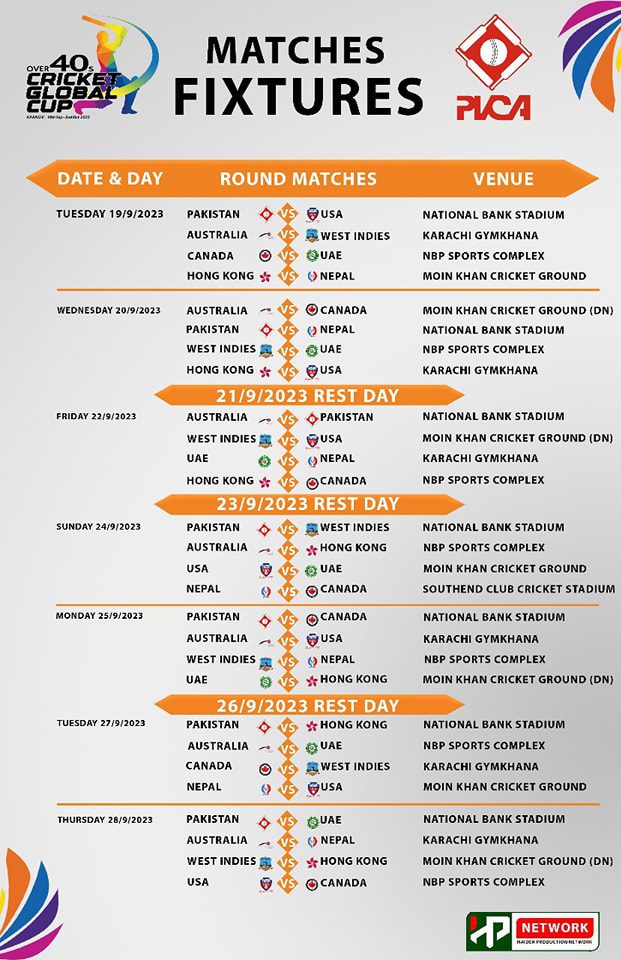 Source: Photo Credits to PVCA FB page
Former Pakistan captain Misbah-ul-Haq will lead the Pakistan Veterans team, which boasts star players like Shahid Afridi, Mohammad Sami, Abdul Razzaq, and others. Misbah-ul-Haq expressed his enthusiasm for returning to international cricket and acknowledged the unique challenges of playing 45-over matches.
He also highlighted the significance of hosting the tournament in Pakistan, emphasizing the fervent support of fans eager to witness their cricketing heroes in action once again.
Pakistan Veterans Squad:
Shahid Afridi
Abdul Razzaq
Misbah ul Haq
Muhammad Sami
Hassan Raza
Tariq Haroon
Khurram Ali Khan (wicketkeeper)
Waqas Ahmed
Abdul Qadir
Muhammad Rizwan Aslam
Kashif Sidqque
Muhammad Ilyas
Afzal Shah (wicketkeeper)
Amjad Ali
Imran Ali
Tassawar Abbas
Adnan Raees
Junaid Khalil Nainitalwala
Reserves:
Yasir Hameed
Haris Ayaz
Shehzad Malik